Study In Slovenia!
Did you know Ljubljana, the capital of Slovenia, is considered one of the "Greenest" cities in the world, having received the European Green Capital of 2016? The sun also shines 2,000 hours a year, and within a short jaunt, you can experience high-altitude Alpine hiking or relax on the Mediterranean coast. You also have easy access to Italy, Croatia, Austria, Switzerland, Hungary, and many more must-see parts of Central Europe. Known for its reasonable cost of living and relaxed pace of life, Slovenia offers BHSU students an opportunity to experience a little-known corner of Europe while studying in one of its most beautiful capital cities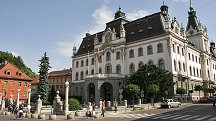 University of Ljubljana
Ranked as one of the top 3% of universities in the world and holding 50,000 students, the University of Ljubljana is one of the largest universities in Europe. The school offers 23 different faculties but has a focus in political science, sociology, communication, and culture studies. The University of Ljubljana cooperates with over 100 universities across Europe and America and has exchange programs with over 500 universities across Europe. Student dormitories are offered at the price of 90 to 140 USD a month. These are double rooms with shared bathrooms and a shared kitchen.
Social Sciences Department
Education Department