BHSU'S WASTE DIVERSION GOALS
Black Hills State University is committed to decreasing our waste stream by 25%. To reach these goals, the campus is increasing recycling initiatives and introducing the Trash Buddy system. The benefits of the Trash Buddy System include:
Increasing the amount of waste diverted, putting BHSU one step closer to achieving its goals.
Empowering employees by providing them the opportunity to contribute to the campus sustainability goals.
Establishing a more effective and efficient method for collecting recyclable materials and utilizing custodial staff.
USING THE TRASH BUDDY SYSTEM:
The Trash Buddy is a user-friendly system that makes deskside recycling easy and convenient. Recyclable goods should be placed in the blue recycling bins. These include paper, glass, plastics numbered 1-7, and cans. Any additional waste, such as Styrofoam, candy wrappers, or disposable cups, belongs in the Trash Buddy attachment. All receptacles will be emptied by individuals in the centralized waste station location.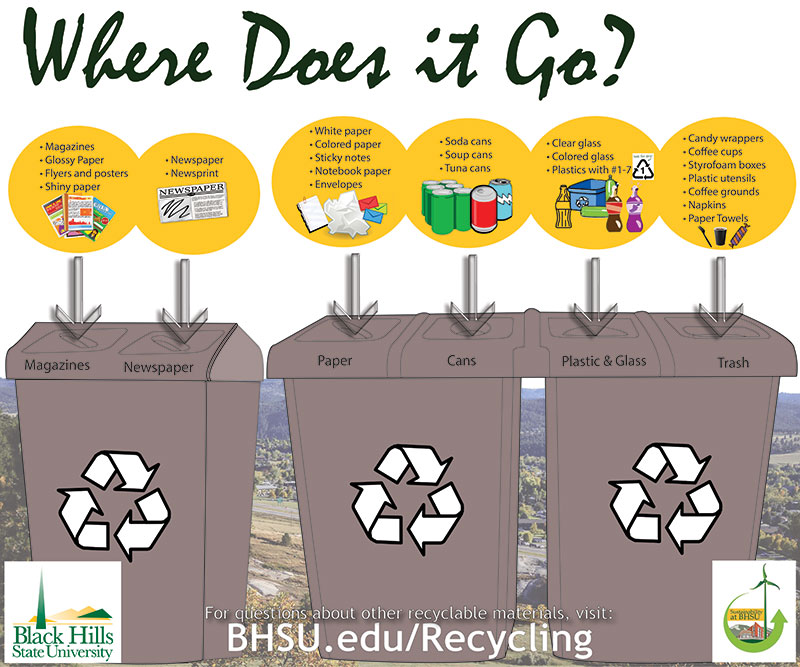 RECYCLING GUIDE
Cardboard: cereal, cracker, and pizza boxes, shipping boxes, paper bags, notebook covers
Magazines: Glossy paper, photo paper, magazines
Newspaper: Newspaper and newsprint materials
White Paper: Notebook paper with the cover and metal spiral removed, printer paper, colored paper, junk mail
Cans: Soda cans
Plastic and Glass: Clear and colored glass, plastic labeled with the numbers 1-7
Facility Services will take items such as batteries, electronic and computer equipment, CDs, and old cell phones.
For more information contact Debbie Liddick at: Deborah.liddick@BHSU.edu or call 605.642.6550.