BLACK HILLS FOOD HUB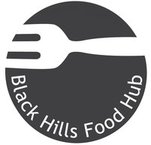 The Black Hills Food Hub (BHFH) is a division of the Black Hills State University (BHSU) Sustainability Department. By delivering food directly from producers to area cafeterias, restaurants, service providers, and specialty stores, our mission is to aid in regional initiatives that broaden the availability of local foods to people of all demographics.
Plans stemming from BHSU's Spearfish Local initiative eventually led to the development of the food hub in 2014, through the Wellmark Foundation Healthy Communities Small Grant and South Dakota Department of Agriculture Specialty Crop Block Grant. With the assistance of field research and community input, BHSU put details in place to launch the BHFH. The food hub officially launched in 2015 and was funded by the USDA Local Food Promotion Program for approximately two years.
The BHFH is currently in a three-year incubation period at BHSU, with plans to become fully sustainable by 2020. As of January 2018, the food hub regularly coordinates local food deliveries from approximately two dozen producers and five cafeterias/restaurants.
BHFH HISTORY
The Black Hills Food hub at BHSU has created the opportunity for Black Hills residents and visitors to enjoy fresh local foods. BHSU provides internships for students to participate in the local food efforts working on campus and with agricultural partners.
BHSU has a legacy of local food. In the early 1900s, students participated in experimental growing programs implemented by President Fayette Cook. A herd of 10 Holstein cows were kept where Cliff Papik Field is now in existence, and the campus also had a garden and an apple orchard.
The BHSU campus is once again taking a leadership role by developing and housing the Black Hills Food Hub. The Sustainability Department at BHSU also has a sister-effort to the food hub, known as Spearfish Local. Look for the Spearfish Local logo at restaurants around town to find establishments that serve locally sourced food, or visit the interactive map on the Spearfish Local webpage for more information.
AWARDS and RECOGNITION
Spearfish Chamber of Commerce 2018 Micropolitan Award
AASHE 2017 Campus Sustainability Achievement Award
---
HOW TO BUY FROM BHFH
Purchasing through the BHFH is as easy as adding your contact information to a weekly distribution list. If you wish to receive weekly food hub product lists, please contact the BHSU Food Hub. The coordinator will add your contact information to a distribution list and help you coordinate any orders you place with the food hub. There is a small fee to buyers for the coordination and delivery of product orders.
Current Participating Buyers:
HOW TO SELL THROUGH BHFH
There is no charge to list products with the food hub. Simply contact the BHSU Food Hub, with any questions, and the coordinator will provide you with the necessary paperwork should you decide to list your products with the food hub. The food hub assesses a small fee to producers for the coordination of product orders.
CONTACT: BHSUFoodHub@bhsu.edu



 www.facebook.com/BlackHillsFoodHub
---
About Spearfish Local 

Spearfish Local is a BHSU sister-initiative of the BHFH that brings together local producers, distributors, purchasers, and consumers of local food and other locally-sourced products. The goal of Spearfish Local is to grow support of the local economy and to work together to achieve greater things than we could as separate organizations.
If you are associated with a business that produces or uses local products, please fill out the Spearfish Local Business Application Form to apply for the free Spearfish Local badge. Badge recipients will be given a window decal to show that their business supports local producers and Spearfish's economy. Businesses who have received the Spearfish Local badge will also be listed on the Spearfish Local website.
For more information, contact Eva Chase, Sustainability Coordinator.