FUEL THE GROWTH - 2023: 
ADVANCING ECONOMIC DEVELOPMENT IN COMMUNITIES
BASIC ECONOMIC DEVELOPMENT COURSE
BLACK HILLS STATE UNIVERSITY - RAPID CITY (BHSU-RC)
SEPTEMBER 12-14, 2023
(Located near Exit 61)
Event: Starts at noon on the 12th and ends at 6 pm on the 14th
---
HOSTED BY:
BLACK HILLS STATE UNIVERSITY
OVERVIEW
We are pleased to invite you to attend  Fuel the Growth – 2023: Advancing Economic Development in Communities from September 12-14, 2023, at Black Hills State University–Rapid City! 
This Basic Economic Development Course will cover 10 economic development topics. Participants will learn from experts and colleagues through presentations, panel discussions, case studies, and networking opportunities. Topics will include:
Business Development: Business Retention & Expansion, Real Estate Development & Reuse, Small Business & Entrepreneurship Development, Economic Development Finance and Marketing / Attraction

Organizational Development: Strategic Planning, Managing Economic Development Organizations, Economic Development Ethics

Community Development: Community/ Neighborhood Development & Workforce Development
REGISTRATION DETAILS: (OPENS ONLINE JUNE 7, 2023)
COURSE TRAINING SCHEDULE, CERTIFICATE, AND CREDIT OPTIONS 
This is not an IEDC-accredited Basic Economic Development Course and does not provide IEDC continuing education credit. All Fuel the Growth - 2023 registrants who participate in the full 2.5-day Course will be awarded a non-credit certificate from Black Hills State University.
Non-Credit Certificates: Black Hills State University (BHSU) will award a non-credit certificate to each participant who attends the full Course (September 12-14, 2023). 
University Academic Credit: Information regarding university academic credit that may be earned for attendance and participation in this Course (Fuel the Growth - 2023) will be available on this site on or after July 14, 2023.
Watch for a listing of the informative, innovative, and engaging sessions that are being planned for 2023! The tentative Course schedule will be available on this site on June 5, 2023! 
REGISTRATION: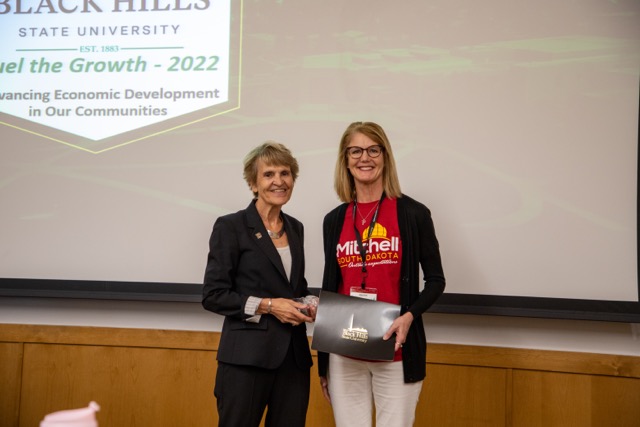 In-person attendance ONLY 
This Course will not be available via Zoom or Livestream
Tuition

: $395 per person (Registration payments may be made by credit card. Registration will officially open online on June 7, 2023)


Sustainability: 

As sustainability is a key area of focus at BHSU, at check-in participants will receive a password-protected link to the Course presentations. A portfolio for note-taking and several printed documents (training schedule, presenter bios) will also be provided to each participant at check-in. Printed copies of the presentations will not be provided.

Hotel: A special hotel rate for Fuel the Growth - 2023 attendees and speakers has been confirmed at Baymont by Wyndham in Rapid City, 4040 Cheyenne Boulevard. Double and single rooms have been reserved for Tuesday, September 12, and/or Wednesday, September 13. Please call 877-361-2496 (directly) to make a reservation before August 12, 2023.