Go Yellow Jackets!
Show your Yellow Jacket pride with some gear from the BHSU Bookstore or a license plate that not only helps you show your support of BHSU but also provides funds for scholarships. Be sure to show off your Yellow Jacket spirit!
BHSU Bookstore - We have a bookstore which provides great service and a wide variety of items. Whether you're looking for some BHSU Alumni clothing, books by local authors including BHSU professors, or anything in between, they're here to help you.
See special alumni merchandise.
---
Yellow Jacket License Plates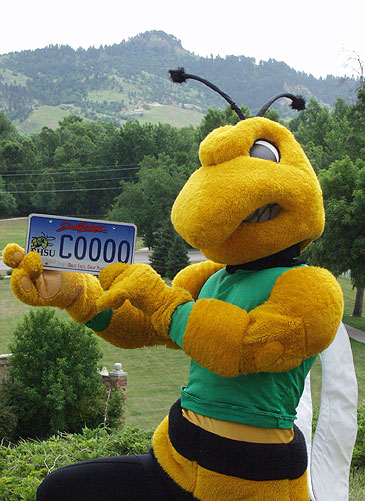 You can support Black Hills State by sporting these new South Dakota license plates! Be sure to ask for your organizational plates the next time you are in the South Dakota County Treasurer's Office.
After you have purchased your new license plates, contact us at (605) 642-6385 or by e-mail to purchase your "Black Hills State Yellow Jackets" stickers for only $25.
Not only will you be showing your support for the university where ever you go but funds go to BHSU student scholarships.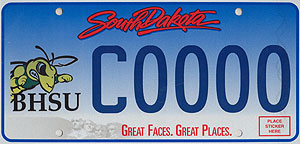 ---
Bronze Sting
A native of South Dakota, T.R. "Tony" Chytka, Class of '77, has created these exquisite miniature replicas of BHSU's mascot, Sting. All of the proceeds will go toward scholarships at Black Hills State University.

"Original" Sting Sculpture

"Bronze" Sting Sculpture
---
GET YOUR OWN PIECE OF BHSU HISTORY - THE BRONZE STING!
Both sculptures stand (from base to antenne) ten (10) inches tall.
Price:
Each miniature replica sculpture, regardless of "original" or "bronze", is $1,000. Shipping and Handling is included in overall price.
Payment: 
Check made out to the BHSU Foundation
Credit cards accepted: MasterCard, Visa and Discover
Payment may be sent to:
Black Hills State University University Advancement Office
1200 University Street
Unit 9506
Spearfish, SD 57799-9506
For more information about the miniature replicas, contact the University Advancement Office at (605) 642-6385.
---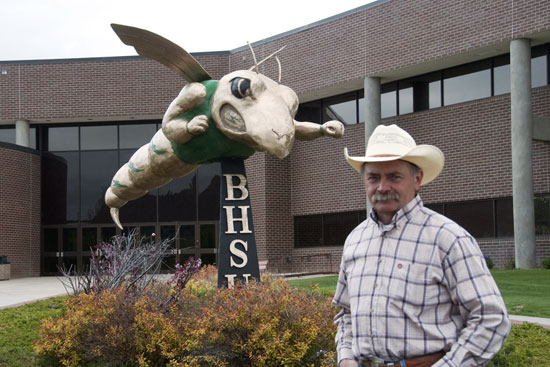 Tony Chytka, the artist, with the bronze sculpture that adorns the front entrance to the Donald E. Young Sports and Fitness Center.
More information about the artist:
Tony Chytka is a cowboy artist whose art reflects his life experience - he's a rancher and former champion bull rider. Tony's large bronze of rodeo great T.C. Holloway was recently installed in the center of historic Deadwood, S.D.
He created four of the six large bronzes on display in the sculpture garden at the Professional Rodeo Hall of Fame. His life-size bronze of rodeo legend Casey Tibbs was installed at the dedication of the Casey Tibbs Foundation and Museum in Ft. Pierre, S.D. In 1995, he created a bronze steer wrestler sculpture that was displayed in Las Vegas during the National Finals Rodeo, and is on permanent display in the National Cowboy Hall of Fame in Colorado Springs, Colo. His sculptures have been featured on The George Michael Sports Machine, Ducks Unlimited, Make a Wish Foundation, and the Calgary Stampede. Tony has also been named Artist of the Year by the South Dakota Western Heritage Hall of Fame.
In , Tony created a bronze sculpture of the BHSU mascot, Sting, which now adorns the front entrance to the Donald E. Young Sports and Fitness Center.