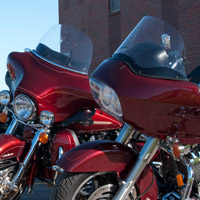 Welcome Rally Goers to Black Hills State University!
Black Hills State University offers on-campus housing to the public during the Sturgis Motorcycle Rally. We are located in Spearfish, which is in the beautiful northern Black Hills. Spearfish is only 18 miles from Sturgis and it's interstate all the way!
We are a small, beautiful, and peaceful campus and our Rally guests appreciate this. We offer a comfortable place to stay with extra-long twin beds and hot showers. Our buildings are all non-smoking and we are a "dry" campus – alcohol is not permitted. Please enjoy the spirited beverages off-campus as several bars and restaurants are within walking distance. Pets are also not allowed.
EASY ACCESS AND BEAUTIFUL LOCATION.
Within Spearfish, we are located approximately a mile off the interstate. Easiest access is provided by Exit 12 off Interstate 90; head west on Jackson Blvd. to the top of the hill and turn right on University Street. Within two blocks you will enter BHSU. The residence halls are located off Jonas Blvd. After two blocks on University Street, turn left on Mason, travel the equivalent of another two blocks (no street divides the blocks), turn right on Jonas, and travel two blocks to the four-way stop. Just across the four-way stop are the residence halls generally used for Rally housing – Heidepriem, Thomas, and Crow Peak. Check out our University housing. Get printable directions to campus.
Thank you for considering Black Hills State University for your lodging during the Sturgis Motorcycle Rally! We look forward to welcoming you to our campus!