DAKOTA DREAMS BOOKLET (ROUGH DRAFT TO BE RELEASED IN MARCH 2023!)
DATES: 2023 Dakota Dreams Camps 
Camp #1: June 25th (10:00AM) - June 29th (NOON) 5 days/4 nights
Camp #2: July 9th (10:00AM) - July 13th (NOON) 5 days/4 nights
WHERE: BHSU Campus (Spearfish, SD) and Black Hills Region (SD Mines, WDT, & Business/Industry Visits)
OVERNIGHT RESIDENCE HALL: Bordeaux Hall, 1200 University St, Spearfish, SD 57799
ELIGIBILITY: Incoming 7th or 8th grade; must be a resident of South Dakota or attend a public school within South Dakota.
COST: FREE - This opportunity is being funded with federal dollars available to the South Dakota Department of Education through the American Rescue Plan.
APPLICATION: Our Dakota Dreams (https://ourdakotadreams.com/)
Applications: 100 campers will be accepted for each camp session and notified by TBA. Seats are limited, preference will be given to students with need. Questions regarding the application can be directed to Careercamps@sdbor.edu. Any questions specifically about this BHSU camp can be directed to Jin Kim, Director of Career Development (BHSU) and BHSU Dakota Dreams Camp Coordinator at careers@bhsu.edu.
PURPOSE: The South Dakota Board of Regents is offering week-long career exploration camps on campuses for incoming 7th and 8th grade students in Summer 2022. This is a FREE camp thanks to a grant by the South Dakota Board of Education!
Campers will be immersed in a week of 'college life' designed to explore career paths through engaging activities and tours of area business and industry. By the end of this five-day residential camp, students will have a better understanding of themselves, their personal career interests, and how education connects to these professions.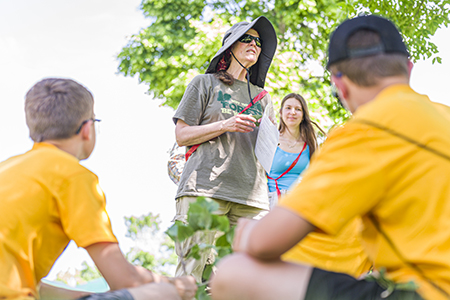 Campers will experience:
Exposure to 10 career paths through hands-on learning.
A full day and two half-days at Black Hills State University.
A day trip to South Dakota School of Mines and Technology.
A day trip to Western Dakota Technical College.
Afternoon tours of area business and industry.
Transportation to and from off-campus field trip sites.

Transportation is being provided by Dakota Bus Service, Inc. dba Dakota Trailways Bus Charter

On-campus housing (four overnights) in BHSU's Bordeaux Residence Hall.

Night Resident Assistants are on call.

Campus dining facilities (all meals, snacks, and drinks included).
Evening recreational and social activities:

Swimming at the Spearfish Recreation and Aquatics Center
Gym & fitness games at the BHSU Young Center
Movie Night!, BHSU
Game night in Bordeaux Hall, BHSU
DIY Crafts in Bordeaux Hall, BHSU

24/7 counselor supervision.
TENTATIVE SCHEDULE: 
Day 1 (Sunday)
Day 2 (Monday)
Day 3 (Tuesday)
Day 4 (Wednesday)
Day 5 (Thursday)
CAREER PATHWAYS INCLUDE:
Computer Science (CIP 110101), WDT
Nursing - Practical & Registered Nursing (CIP 513801), WDT
Biomedical/Medical Engineering (CIP 140501), SD Mines
Chemical Engineering (CIP 140701), SD Mines
Metallurgical Engineering (CIP 142001), SD Mines
Teacher Education (CIP Series 13), BHSU
Business Management (CIP 520201), BHSU
Tourism and Hospitality Management (CIP 5209), BHSU
Accounting (CIP 520301), BHSU
Financial Analyst (CIP 520801), BHSU
Marketing (CIP 521401), BHSU
INCLUDED ITEMS:
Linen Package (2 - flat sheets, 1 - light blanket, 1 - pillow, 1 - pillowcase, 1 - towel, & 1 - washcloth)/camper
All meals (4 - Breakfasts, 4 - Lunches, 4 - Dinners) +Snacks & Refreshments
Transportation & admission costs to all employer, recreational, and social activities
WHAT TO PACK?: 
Medication: Prescription medication administered by staff must be individually bagged or contained per administration (separate bag of medication for morning and evening for each day). Actual prescription bottle/container/box must be provided during check-in  
Personal Care Items (vitamins, glasses/contacts, personal assistance items etc.) 
Toiletries (soap, shampoo, conditioner, deodorant, loofah/bath scrubbies, toothbrush, and toothpaste etc.)
Extra blankets and pillows if you wish to have more 
You may decide to bring your own towel/washcloth, however please do not mix yours with the ones provided! 
Clothes including: light jackets/sweaters, long pants and closed toed shoes required (due to safety in employer visit sites), socks, undergarments, athletic wear including shoes for recreational activities, swimwear (and towel), and nightwear. 
Have questions, comments, or concerns? Contact Career Development by emailing Careers@BHSU.edu or by calling 605.642.6269. 
FUTURE DATES: 2024 Dakota Dreams Camps 
Camp #1: July 7th - July 11th 5 days/4 nights
Camp #2: July 14th - July 18th 5 days/4 nights