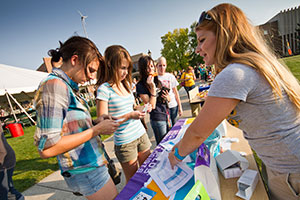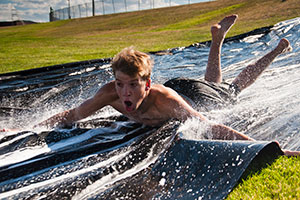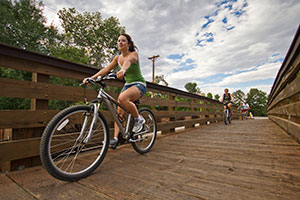 Green & Gold Days – New Student
Move In & Welcome Week Activities

Friday, August 19, 2022 – Move-in Day
8:00am – 3:00pm          Check-in Jonas Hall Parking Lot/Residence Halls
Late Check-in 3:00pm – 5:00pm Individual Halls
3:00pm – 4:00pm          Hall Meetings Individual Floors/Halls
4:00pm – 7:00pm          RHA Block Party @ Peaks Recreation Area
Food Provided at Block Party
7:00pm – 9:30pm          Downtown Friday Nights Main Street Spearfish
Transportation Provided 7:00pm – 9:00pm Meier Hall Circle
10:00pm                       Hall Programming Individual Halls
Saturday, August 20
8:30 – 11:00     New TRIO Scholars Orientation – Jonas 305
11:00 – 1:00      Brunch – The Hive
1:00 – 4:00       BHSU Service Saturday & Spearfish Tours - CLICK HERE TO SIGN UP!
Hickory House, Bingo with elderly residents.
Western Hills Humane Society by cleaning, feeding, or helping with the shelter animals
Burrs Assisted Living, decorate, plant and deliver potted plants to residents.
Spearfish Fire Department, students will clean the fire trucks
Northern Hills Training Center play games and have fun with individuals with developmental disabilities in our community.
Spearfish Police Station, car wash for all the patrol cars
City of Spearfish: Spearfish Creek Clean-Up and Painting the Fence at the Ball Field
5:00 – 6:30       Dinner – The Hive
8:00-10:30        Glow in the Dark Paint & Foam Dance – Campus Green
Sunday, August 21
11:00 – 3:30     ALL ATHLETE Orientation – Young Center
3:00 – 3:45       Join student leaders as they help you find your way around campus.  Bring your schedule and find your classrooms.  Student leaders will be dispersed throughout the academic buildings to help you find where you need to go the first week of school.
3:45 – 4:00       Make your way to the Young Center Gym
4:00 – 4:30       Get to Know Each Other & Campus Welcome
4:30 – 4:40       Title IX
4:45 – 5:00       Personal Safety & Good Choices
5:00 – 5:10       Choosing Academic Success
5:10 – 5:25       Presidential Welcome:  Dr. Laurie Nichols
5:30 – 7:00       Alumni Association Sponsored Campus BBQ and Dinner – Young Center Field House
Monday, August 22 -- Classes Begin
11:00 – 1:30      First Day of Class Photo Booth – Student Union Atrium
4:00 – 6:00       Slip and Slide place @Young Center Filed House
7:30 – 9:30       Pool Party  @  Spearfish Rec Center
Tuesday, August 23
8:30 – Noon      Ice Cream Breakfast on Campus Green
Noon – 3:30      ORG Fair on Campus Green 
Wednesday, August 24
11:00 – 2:00     Chalk Day on Campus Green
 7:00 – 8:30      Karaoke  @ Schallenkamp Amphitheater
Thursday, August 25
 4-6pm BHSU Prize Walk  @ Campus Green
Friday, August 26
3:00pm Hike to the H @ Meet at the Library Circle
Saturday, August 27
TBD Sigma Tau Gamma BBQ at City Park
6:00-9:00 Street Dance @ Newman Center
Sunday, August 28
4:00 – 6:00       Scavenger Hunt@ Student Union
Monday, August 29
3:00 pm            Soccer:  BHSU vs. Minot State – Ronnie Theisz Field
8:00 – 10:00      Bowling at Lucky Strike Lanes
Tuesday, August 30
4pm-6pm Family Feud @ Club Buzz
Wednesday, August 31
 5:30 – 7:30      Cornhole Tournament on Campus Green
  7:30-8:30         Grocery Bag Bingo @ Club Buzz
Thursday, September 1
9:00 – Noon      Part Time & On-Campus Job Fair @ Young Center (Career Development)
7:00-9:00          Rec Sports Night @ Young Center
Friday, September 2
3:00 pm            Tye Dye on the Campus Green
8:00pm               Outdoor Movie-Campus Green