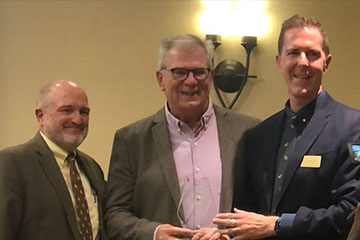 SPEARFISH - Dr. Thom Flamboe, Licensed Professional Counselor at the Black Hills State Counseling Center and Volunteer Mental Strength and Wellness Coach for BHSU Athletics, recently received the "2021 Distinguished Alumni Award" from the University of Wyoming's College of Health Sciences.
"I have loved this campus since I was here in the 80s doing new student orientation," said Flamboe. "My volunteer work in the Counseling Center has been very fulfilling and this is my way of giving back."
Dr. Flamboe has a bachelor's degree in Elementary Education – Special Education as well as degrees in Communication Disorders and Counseling, and a Ph.D. in Counseling Psychology. He has had a Clinical Mental Health practice in a family medicine clinic and been a trainer in the South Dakota DARE program for 20 years.
He served as an Assistant Professor of Psychology at Presentation College in Aberdeen and as Faculty President and the Vice President of Academics. While in Aberdeen he also served as a Negotiator on the Special Response Team for the Aberdeen Police Department.
Since moving to Spearfish to be closer to family, Dr. Flamboe has worked as a consultant to the Pennington County Sheriff's Office and the Sturgis Police Department, assisting police officers and first responders in successful interactions with mentally ill and developmentally disabled persons.