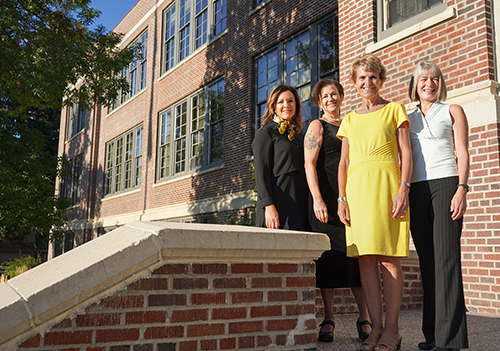 Black Hills State University received full accreditation of its Master of Education in Reading from the Council for the Accreditation of Educator Preparation (CAEP). The M.Ed. in Reading is the latest of BHSU's programs to be accredited by CAEP. The University's undergraduate education programs were fully accredited in 2018 and will be reviewed again in 2025.
The BHSU M.Ed. in Reading received full accreditation with no areas for improvement nor stipulations, making the BHSU School of Education the only institution in the state to be fully accredited by CAEP at both the undergraduate and graduates levels.
"BHSU received a perfect report. There were no areas for improvement and no stipulations. This is a true credit to everyone who teaches, advises, and supports our School of Education programs," said Betsy Silva, Dean for the College of Education and Behavioral Sciences at BHSU.
CAEP, the sole accrediting body for educator preparation nationally recognized by the Council for Higher Education Accreditation (CHEA), is a unified accreditation system intent on raising the performance of all institutions focused on educator preparation. Approximately 720 educator preparation providers participate in the CAEP Accreditation system.
Higher education institutions seeking accreditation must pass peer review on five standards, which are based on two principles:
Solid evidence that the provider's graduates are competent and caring educators, and
Solid evidence that the provider's educator staff have the capacity to create a culture of evidence and use it to maintain and enhance the quality of the professional programs they offer.
"This accreditation sets BHSU apart as the only South Dakota institution that has earned full accreditation for an advanced program. CAEP, a national accreditation council, has high standards for initial and advanced teacher preparation programs. The fact that our M.Ed. in Reading met those standards is certainly an accomplishment of which we are proud. This accreditation means our graduate students can work as literacy teachers and coaches knowing, with full confidence, they have been prepared and are able to connect theory and practice in order to support P-12 teachers and students in the planning and delivery of effective literacy instruction," said Dr. Faye LaDuke-Pelster, Chair of the School of Education and Associate Professor of Reading at BHSU.
Black Hills State University has enjoyed a long history of educating students. In 1883 before South Dakota had even gained statehood, Dakota Territorial Normal School, which would later become BHSU, was founded. By the end of the first term in July 1884, approximately 40 students were in attendance. All were studying to hold teaching positions in the region. The University has been accredited by CAEP (formerly NCATE), the Gold Standard accreditation, since its inception in 1954.
Silva, who has worked at BHSU for 30 years and has been through four accreditation cycles during that time, said, "Accountability in education is extensive with oversight beginning on campus and extending to the U.S. Department of Education. Meeting CAEP Standards ensures current and future students that each teacher candidate will receive a quality, rigorous Reading Specialist preparation program taught by exceptional faculty with our partners. Our M.Ed. candidates are immersed in the field as practicing teachers enabling immediate application and research. Specifically involved in this accreditation honor are Dr. Denice Turner, Dr. Faye LaDuke-Pelster, Dr. Brian Eberhard, Dr. Jarrett Moore, and Dr. Rich Carriveau!"
For more information on the School of Education at BHSU, see www.BHSU.edu/Education.