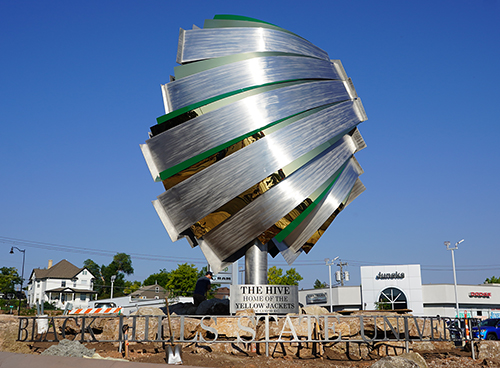 A dedication ceremony for "The Hive," a 20-foot sculpture created by local artist Dale Lamphere, will be held as a part of Black Hills State University's homecoming week. The celebration and ribbon cutting event will be Wednesday, Sept. 22 at 6 p.m. in the parking lot of Juneks Chrysler Jeep Dodge RAM, located at 644 W. Jackson Blvd.
"The Hive," which was recently installed into the roundabout at the intersection of Jackson Blvd. and Ames Street leading toward the BHSU campus in Spearfish, honors the ongoing collaboration of the Spearfish community and BHSU. Lamphere, a Sturgis resident who attended BHSU before launching a successful career as an artist, created the stainless steel sculpture as a representation of a hive in honor of the BHSU Yellow Jackets.
"This beautiful sculpture represents how layers of a community can come together to represent and support art, culture and education. We appreciate the support of the City of Spearfish and the community to create this amazing piece that will inspire our students to pursue their dreams and add to the quality of life for those who live here" said Julie Olson, Interim Director of BHSU Marketing & Communications. 
BHSU President Laurie S. Nichols, Spearfish Mayor Dana Boke, BHSU Student Senate President Keegan Baatz, and Lamphere will speak at next week's dedication ceremony, and the BHSU Beeline will perform. The event is open to all and everyone is encouraged to wear BHSU apparel or the University's green and gold colors.
For more information contact Julie Olson at 605-642-6849 or
Julie.Olson@BHSU.edu
.