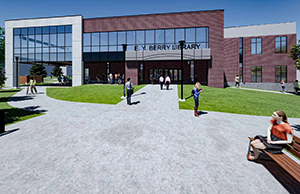 The E.Y. Berry Library and Learning Center on the campus of Black Hills State University, which was built in 1973, is undergoing a major remodeling and infrastructure update.

The Library building is now closed for the renovations and library services have been moved to the David B. Miller Yellow Jacket Student Union. Books and resources have been relocated and are available by request. Einstein's Bros. Bagels has also been temporarily relocated to the Student Union.

Construction will begin in the next few weeks and the renovated library is expected to be ready by the start of the Fall 2022 semester. Bids for the project came in lower than expected at $6.7 million. A local company Ainsworth-Benning Construction, A Journey Group Company, was awarded the construction project.

After nearly 50 years, the campus library was in need of functional upgrades and to keep up with the demands of today's educational needs according to BHSU President Laurie Nichols.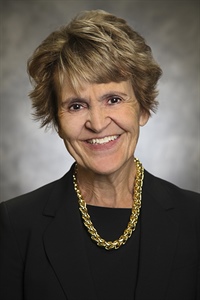 "This renovation will change the library, placing a greater focus on one-stop help for students and co-location of student services to greatly enhance student success," Nichols said. "Libraries continue to evolve to meet student needs. This visionary plan allows our library to enhance their information services by utilizing technology in an even more significant way. As library resources move online, it opens the door to revamp the main floor into a student success center for students with tutoring, math/writing assistance, academic advising and career services, all within feet of each other. In addition, collaborative and group learning spaces will be enhanced." She noted that the design is aesthetically pleasing using natural lighting and provides exceptional views of the surrounding Black Hills.
Plans call for the Student Success Center and other student services, including tutoring, to be located at one central location on the first floor. The renovated library will include space for advising, tutoring, the Career Center, the Math and Writing Assistance Centers, discrete study spaces, IT Help Desk as well as Einstein's Bros. Bagels Café with a new outdoor patio. A large mural, created by BHSU student Hope Christofferson, will be added. The student's impressive artwork, which depicts many of the landmarks in Spearfish and the region, will be printed on large tile panels.
A large addition to the second floor will provide more space for students to study; other services on the second floor will include the testing center, computer service offices, an instruction room, and disability services. There will also be space for students to meet for group projects with a great view of Spearfish and Lookout Mountains. A new open staircase and a west entrance to the library will also be added.
On the lower level, an expanded area for collections/archives will be created making it possible for more of the University's archives and collections to be readily accessible and shared. A maker's space, video production studio, and compact book storage will also be added on the lower level.
As a part of the renovation major infrastructure upgrades, including upgraded HVAC, electrical, lighting, restrooms, and fire sprinkler systems as well as better data and technology, greater accessibility, and electronic doors are planned.
"Moving everything from the library has been a monumental task that our facilities services team has been working on since Thanksgiving. They moved an entire library, including books, shelving, archives, and furniture to prepare the building for construction," said Kathy Johnson, Vice President of Finance & Administration.
The Writing Center has been relocated to Student Union during the construction. The Math Center is temporarily in Jonas Hall. IT staff members have been relocated to the Student Union during the renovation period.  
For details about the renovation see: 
www.BHSU.edu/LibraryRenovation
.