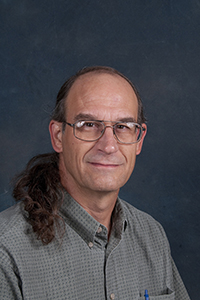 Dr. Tim Steckline, mass communication and speech communication professor at Black Hills State University, was presented with the prestigious Distinguished Faculty Member award recently.
Steckline was recognized for quality teaching, impactful research and exemplary service. BHSU President Laurie S. Nichols, Dr. Priscilla Romkema, Provost, Dr. Amy Fuqua, Dean of the College of Arts and Liberal Studies, and Dr. Martin Fashbaugh, Chair of the School of Arts and Humanities surprised Steckline in his classroom to personally congratulate him for earning the highest faculty honor at BHSU.
In a letter read to Steckline and his class, Nichols said, "Dr. Steckline you've been selected by your peers to receive the 2021 Distinguished Faculty Award. You were nominated due to the passion you bring to your teaching and your generosity in sharing time and expertise beyond the classroom.  … Your record of scholarly achievement include conference presentations and published articles which demonstrate your willingness to share your knowledge with your colleagues, students and the academic community. Your willingness to put in additional effort to the advancement of your students and the University is truly noteworthy. I thank you for all you do for Black Hills State University every day. Congratulations on this much deserved recognition."
Since joining the faculty at BHSU, Steckline has taught 14 different classes, representing four disciplines: speech communication, mass communication, theatre, and philosophy. The popular and highly respected professor is known for being a caring, kind, and encouraging leader both in the classroom and outside the classroom. He is seen regularly walking across campus stopping often to visit with students, faculty, and staff with his unique personal and encouraging approach. He is known for his ability to engage students and develop their critical thinking skills. Steckline maintains connections with students after they graduate and often writes letters of recommendations and encourages students as they seek scholarships, fellowships, internships and jobs.
Steckline has served as President of Faculty Senate, Treasurer and President of COHE and participates on the Library and Education Resources Committee and with the Western Interstate Commission for Higher Education. He has consistently presented at the Western Literature Association conference for 20 years and his presentations always draw a strong attendance. Steckline has been an integral part of the Honor's Program Geek Speaks, offering one to two presentations per year for it since its inception. He has been actively involved with the Indian Studies program and assisted with fundraising for the annual Wacipi and other activities.
Steckline has a Ph.D. from the University of Iowa in Iowa City; a master's from the University of Iowa in Rhetorical Studies; he earned his Bachelor of Arts degree in speech communication and English from the University of Northern Colorado in Greeley, Colo.  Before joining the faculty at BHSU, Steckline taught the University of Missouri in Columbia, Mo., Loras College in Dubuque, Iowa; and he served as a teaching assistant at the University of Iowa. He also worked as an editor for a media marketing research and consulting firm.
Watch the video of the award presentation here.