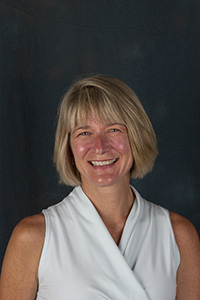 Dr. Betsy Silva has been named Dean of the College of Education and Behavioral Sciences at Black Hills State University.
Silva, who is currently serving as Interim Dean, was selected following a national search. Silva joined the faculty at BHSU in 1992 and since then has earned numerous prestigious recognitions for teaching. In addition to her exemplary service as a professor of physical education/pedagogy, Silva has 14 years of experience successfully serving in leadership positions at BHSU.
Dr. Priscilla Romkema, Provost and Vice President for Academic Affairs, noted that she is pleased that Silva is joining the academic leadership team at BHSU. 
"Dr. Silva's leadership experience, expertise, human relations skills, and vision for higher education will enable her to serve as a strategic Dean of the College of Education and Behavioral Sciences. She is willing and ready to work in a collaborative manner with faculty and staff to identify new opportunities and strengthen existing programs and initiatives," Romkema said. "She will build upon her connections with individuals in the community, region and state to further elevate the university."  
Silva has also been integrally involved in a number of high profile administrative initiatives and significant professional service and is looking forward to creating new opportunities for BHSU while continuing her strong commitment to providing an exceptional learning experience for students. Silva is recognized on campus as an energetic, positive leader with collaborative oversight and strong management expertise of personnel, policy, finance, and accreditation.
"Serving as Dean is an incredible honor and very exciting! Our students are the priority, and my commitment to them is providing an academic journey that enables entering the workforce with the knowledge, skills, and dispositions needed for success," Silva said. "Clearly our faculty have the achievements, credentials, and experience to guide students to positively impact student academic and professional development. I'm eager to continue to work with faculty and students in this new role."
Silva has a doctorate in pedagogy – physical education and a master's in physical education - curriculum and instruction from the University of Northern Colorado and an undergraduate degree in biological and chemical sciences from the University of Michigan.