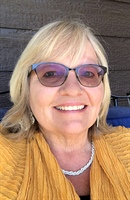 Corinne Hansen, Director of University and Community Relations at Black Hills State University, will retire in June after working for the university for nearly 31 years.  
Hansen, who graduated from BHSU with a mass communication degree, began her employment at her alma mater in 1990 in the News Service Department. In the last three decades she has expanded her area of oversight to include marketing, public relations, media relations, print and digital design, the printing center and community relations as well as the University's website, social media and online presence.
Through the years, Hansen notes that she has especially enjoyed sharing the success stories of BHSU students, faculty, staff and alumni. "The highlight for me has always been hearing from the BHSU community and sharing their successes. There are so many amazing people associated with BHSU – our students, our faculty and staff and our alumni. It's humbling to share their experiences. BHSU makes such a positive impact on their lives. It has been an honor for me to represent BHSU." 
As a member of the Administrative Team, Hansen has provided leadership and direction for the University's communications, marketing, and strategic planning. Hansen was instrumental in guiding BHSU to proactively adopt new strategies to meet communication challenges that come with changing technologies. Hansen's department has earned the University Outstanding Area Award and several University Economic Savings Awards as well as regional CASE and Addy awards for communications and marketing materials. 
Dr. Laurie S. Nichols, President of BHSU, said that Hansen has dedicated her career to internal and external communications for BHSU.  Her area transitioned from serving as a news bureau to today's more complex office of communication, branding, marketing and community relations.  Nichols said, "Her shoes will be hard to fill. I wish her all the best in her retirement. It is well deserved and I thank her for her years of service to BHSU while also wishing her much happiness in this next phase of her life."
Hansen expressed her sincere thankfulness and admiration for the people she has worked with at BHSU.  "I commend and sincerely thank the exceptional staff members that I've had the opportunity to work with and mentor," Hansen said. "They have accomplished so much and continue to amaze me with their creativity, commitment and dedication." 
"One of the best decisions I ever made was enrolling at Black Hills State," Hansen said. "As I earned my degree, which inspired a desire for lifelong learning and prepared me for my career, I also gained a great appreciation for the Black Hills area and especially the people in this community. I feel so fortunate to have had the opportunity to spend a significant portion of my career at my alma mater. The BHSU and the Spearfish communities mean so much to me and have provided many opportunities for me and my family." 
Before joining the staff at BHSU, Hansen worked as a graphic designer, newspaper reporter and editor, and as a photographer. Hansen, who has a master's degree in communications from Regis University, notes that she is keeping her options open for the future. She is looking forward to the next phase of her life pursuing some of her interests including hiking, traveling, art, and spending time with her family.