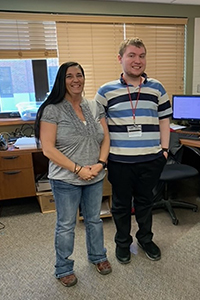 Providing educational opportunities is at the heart of what Black Hills State University does throughout the year. This semester, several BHSU staff members created additional educational opportunities for recent high school students with disabilities through the Project SEARCH program.

Three Project Search interns have been placed on the BHSU campus and are working with staff members for an 8-10 week time span. The Project Search interns are gaining job related transferable skills by working in an office and on a ground and maintenance crew. 

 Project SEARCH is a unique business-led transition program in partnership with Monument Health and the Department of Human Services for students ​18-21 with disabilities. It provides students who want to work a chance to explore careers and develop transferable skills. The ultimate goal is independent adults working in sustainable employment.

Designed as an internship program, Project SEARCH places students in real-world situations where they learn all aspects of gaining and maintaining a job. This process of immersion facilitates the teaching and learning of new work skills on-site. Students report to the host business to get hands on experience, as well as learn employability skills in the classroom. They receive support with accommodations, adaptations, and on-the-job coaching. 
The BHSU staff members working with Project SEARCH interns include Roxanne Lewis, program assistant in Facilities Services; Eric Hanson, grounds crew leader in Facilities Services, and Brock Anundson, Assistant Athletic Director.

"I'm pleased that BHSU is participating in the Project Search intern program," BHSU President Laurie S. Nichols said. "BHSU prides itself on preparing our students for careers. Participating in this program gave us another opportunity to teach transferable skills to individuals at the high school level.  I commend our HR department for finding campus placements and the staff members who mentor the Project SEARCH interns."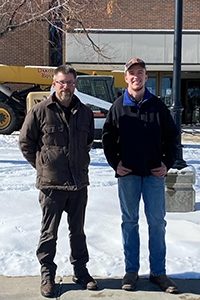 Project SEARCH intern Max Bataille has accomplished office responsibilities under the direction of Lewis. He has been typing procedural tasks and is helping organize routine maintenance throughout Facilities Services.

"It has been an honor and pleasure to work with Max this past month," Lewis said. "SEARCH is a wonderful transition program for individuals to find their niche in the workforce after graduating high school. There are underlying talents that can be found if given the time and patience by mentors and businesses in our communities."
Jacob Palmer is working with Hanson. The two have been part of the crew that took on the huge task of clearing out the campus library for a renovation project. Palmer has helped moved the shelving, books, and furniture.

"I appreciate this cooperative agreement between BHSU and the Project SEARCH program. It is a perfect fit for everyone involved.  Jacob comes to work on time and ready to go every day, and does it with a positive and upbeat attitude," Hanson said. "All of the student interns that have been placed here should be commended for their positive attitude and courtesy and respect for the people they work with. I look forward to the future to continue this partnership."