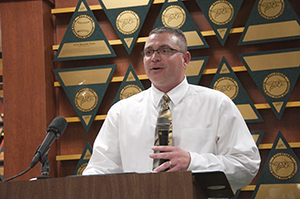 Jhett Albers, who has served as the Director of Athletics for Yellow Jacket Athletics since 2006, will retire in June.  A Black Hills State University graduate, he joined the coaching staff at BHSU in 1999 as volleyball coach.
As Athletic Director, Albers held responsibility for the direct oversight and day-to-day operations of the BHSU Athletic Department and Donald E. Young Sports & Fitness Center.  Albers also serves as a member of the BHSU President's Administrative Team.
BHSU President Laurie Nichols commends Albers for his years of dedication and service to BHSU athletics.  "When the history books are written on Yellow Jacket athletics, Jhett Albers will be regarded as a leader in building the athletic program. His experience included being a student athlete, head coach, associate and later Athletic Director. He not only led BHSU to national competition, but also moved the university from NAIA to NCAA DII and secured membership in the RMAC as our athletic conference.  Alone these are major achievements, but coupled together, Jhett leaves a legacy."    
Albers, a Spearfish High School and BHSU graduate, has lived in the community of Spearfish for 45 years. Athletics has been an important part of his life throughout all that time. Albers was a successful three-sport athlete in high school and an All-Conference, All-District, and Academic All-American for the Yellow Jacket Football team in the mid-1980s.
"I am extremely grateful to BHSU for the opportunities provided me over the past 22 years. I have been fortunate to be surrounded by tremendous people who have contributed greatly to the success of the programs as well as supporting me as leader. I will miss the day-to-day interactions and relationships that have been developed over the years and will treasure many memories," Albers said. "It is an exciting time for BHSU and I look forward to continuing to follow and support Yellow Jacket athletics.  My wife Kathy and I are excited for the future and are looking forward to the next chapter in our lives.  Once a Yellow Jacket, always a Yellow Jacket!"
As AD, Albers was selected NAIA-ADA DAC Athletic Director of the year in 2008-09.  BHSU was awarded the DAC Commissioner's Cup in 2007-08, and runner up in 2008-09 & 2009-10. In 2009-2010 Albers stepped down from his head coaching and part-time AD position to become the full-time Director of Athletics to successfully lead BHSU and Yellow Jacket Athletics through the transition from NAIA to NCAA DII.  Albers was also instrumental in securing BHSU's membership to the Rocky Mountain Athletic Conference in 2012-2013. During Albers tenure, BHSU Athletics and the Yellow Jacket Foundation have increased Athletic Scholarship Awards from $450,000 to over $1,000,000 annually.
Albers served as the head volleyball coach at BHSU for 11 years. As the head volleyball coach, Albers led the Yellow Jackets volleyball program to back-to-back DAC Championships and NAIA National Tournament appearances (2008 & 2009) for the only time in school history.  Albers was named NAIA DAC Volleyball Coach of the Year in 2007 & 2008.
Albers earned a bachelor's degree in elementary education and master's degree in curriculum and instruction both from BHSU. Albers served as a teacher and three-sport coach at Spearfish High School for 11 years prior to coming on staff at BHSU. Albers was inducted into the Spearfish High School Athletic Hall of Fame in 2007 in recognition of his accomplishments as a student-athlete and coach.
Albers and his wife, Kathy, have two children Austin and Abby who are both graduates of BHSU.
Information will be forthcoming as BHSU begins a search for Albers' replacement.