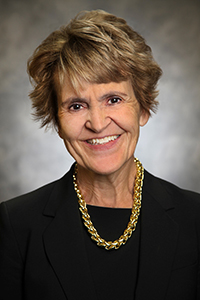 Welcome to Black Hills State University.
Located in the northern hills of the larger Black Hills region, you will find our campus, community and region to be welcoming, nature-inspired, and stunningly beautiful. Please visit us!
Each day I am struck by the passion and the sense of connection that Black Hills State instills in its students, faculty, staff, and alumni. It is a place where gifted faculty focus on teaching and mentoring the rising generation to become engaged citizens and tomorrow's leaders. Our mission at BHSU is to improve the world through education. We are student-centered, intellectually challenging, and regionally engaged.
At Black Hills State, we encourage every high school senior to consider attending college, regardless of their socioeconomic status or race. I was a first-generation college student. My education completely changed my life. As a lifelong educator, I started my career right here in the Black Hills as a secondary teacher. Impacting young lives was the reason I entered this profession 40 years ago, and has kept me motivated all these years. I believe it is our obligation to open doors so that same opportunity that I, and many of you, experienced is also available to the next generation of students.
Please explore all that we have to offer! With our main campus in Spearfish and a branch campus in Rapid City, you will find that we are a small, comprehensive liberal arts university with strong, accredited professional offerings in education and business. Our campus prides itself on being a highly sustainable university where we are increasing use of renewable energy; employ environmentally-friendly practices such as recycling and composting; are designated as tree/bee/bicycle-friendly; and offer academic offerings in Sustainability. BHSU hosts the education and outreach arm of the Sanford Research Lab where cutting-edge undergraduate research opportunities are world-class. Our athletic program is a member of the Rocky Mountain Athletic Conference---one of the strongest DII conferences in the nation, and our rodeo team consistently ranks in the top tier of the National Intercollegiate Rodeo Association.
You can tell that I am very proud of BHSU and when you visit, you will undoubtedly see the enthusiasm and energy of Black Hills State students. I hope you will join us.

President, Laurie S. Nichols