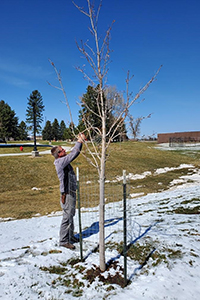 Black Hills State University was honored with 2020 Tree Campus Higher Education® recognition by the Arbor Day Foundation for its commitment to effective urban forest management. This is the fifth consecutive year, BHSU has earned the Tree Campus recognition.
The public is invited to join BHSU to celebrate the Tree Campus recognition on April 21 from 3-5 p.m. in the new Veterans' Park. Students in Dr. Tara Ramsey's biology class are participating in the event. There will be a tree planting demonstration and tree care techniques will be presented.
"Tree Campuses and their students set examples for not only their student bodies but the surrounding communities showcasing how trees create a healthier environment," said Dan Lambe, president of the Arbor Day Foundation. "Because of Black Hills State University's participation, air will be purer, water cleaner and students and faculty will be surrounded by the shade and beauty trees provide."
BHSU President Laurie S. Nichols noted that the University appreciates its beautiful location near the Black Hills National Forest and is proud to continue its legacy of earning the Tree Campus recognition.
"With our location in the beautiful Black Hills, we place an emphasis on taking care of trees on our campus," Nichols said. "Students, faculty, and staff at BHSU are committed to sustainability and we will continue to do our part to enhance the environment."
The Tree Campus Higher Education program honors colleges and universities for effective campus tree management and for engaging staff and students in conservation goals. BHSU achieved the title by meeting Tree Campus Higher Education's five standards, which include maintaining a tree advisory committee, a campus tree-care plan, dedicated annual expenditures for its campus tree program, an Arbor Day observance and student service-learning project. Currently there are 403 campuses across the United States with this recognition.
BHSU is recognized for taking the lead with sustainability initiatives through a comprehensive Sustainability Master Plan which includes solar energy, recycling, a campus garden, composting, use of an electric car, and a carbon commitment.  BHSU has also earned STARS Silver recognition, LEED designation, and is a Bee Campus USA. For details see: www.BHSU.edu/gogreen
Last year, Tree Campus Higher Education schools have collectively planted 39,178 trees and engaged 81,535 tree planters. More information about the program is available at treecampushighered.org.
About the Arbor Day Foundation: The Arbor Day Foundation is a million-member nonprofit conservation and education organization with the mission to inspire people to plant, nurture and celebrate trees. More information is available at arborday.org.