Bridget Beck, a Black Hills State University art instructor, received a National Endowment for the Arts grant to create a large-scale outdoor sculpture at Josephine Sculpture Park in Kentucky. She is a fellowship recipient for the sculpture park and will be their artist in residence for the month of June this summer. 
   Beck, who is originally from Rapid City, says she "creates sculptures and drawings to attempt to transport the viewer to magical and thought-provoking places.  My art reveals the complex intersections between place, mark-making, object, and action."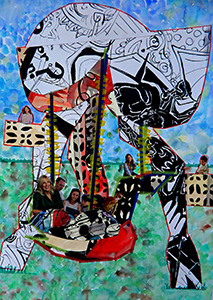 She says working outside on a large-scale sculpture like the one she'll do this summer connects her with the environment.
   "The physical rigor of creating large interactive sculptures connects my body and mind to the physical world. Because all parts are handmade, I take pleasure seeing the joy my work gives those who experience it, play on it, and interact with it in their own creative way. I feel connected to their experience because I built a platform for it to happen. I champion the value art plays in daily life," Beck says.
   Beck's project at Josephine Sculpture Park, A Woman, is a large scale sculpture that celebrates femaleness. She notes that thousands of people will be able to experience this interactive sculpture.
   Beck is an adjunct instructor at BHSU. This semester she is teaching Drawing 1, Drawing 2 and Intro to the Visual Arts. She earned her undergraduate degree from Augustana College in Sioux Falls. Shortly after that she begin to make outdoor sculptures at Franconia Sculpture Park in Minnesota. She went to graduate school at University of California Los Angeles. She has also taught art at the college level in California and Oregon.
   You can visit Bridget Beck's website at www.BridgetBeckArtist.com and the Josephine Sculpture Park's website at www.JosephineSculpturePark.org.