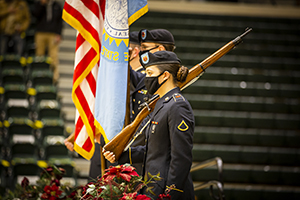 Black Hills State University was named to the Military Friendly® Gold list recently that designates universities for their commitment and dedication to military students. The list is compiled by evaluating colleges and universities using public data and responses from a proprietary survey by VIQTORY.

BHSU has a legacy of providing educational opportunities for military students. This year, nearly 180 veterans and veteran dependents are enrolled at BHSU. Greg Krajewski, veteran resource coordinator and veteran of the U.S. Air Force, says BHSU offers exceptional services and significant financial aid to veteran.
"We provide reduced tuition of $250 to our active duty veterans. With the federal aid they receive, the BHSU reduced rate for veterans covers their tuition cost. This is especially helpful cost-wise for airmen who are pursuing their Associate's degree through the Community College of the Air Force (CCAF). They can take general education classes at BHSU through the General Education Mobile (GEM) program and get them paid for," Krajewski noted. 

BHSU has a Veterans Club which works to support veteran students and their families while also engaging with military celebrations and issues in the community. Krajewski meets with student veterans at both BHSU locations in Spearfish and in Rapid City.  Each of the BHSU locations has a dedicated Veterans Center with computer and printing access, as well as the comradery of connecting with fellow veterans.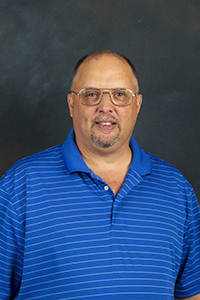 "Being named to the Gold designation as a Military Friendly institution is great news for our university and it's even better news for our students. This shows BHSU has a vested interest in making sure veteran and dependents not only feel comfortable at BHSU but are getting a world class education with unlimited opportunities," Krajewski said.

Many student veterans and veteran dependents transfer to BHSU with credits from another college or are resuming higher education at BHSU after a long hiatus. BHSU supports these students, along with first-time college students, with academic tutoring, student health, and counseling services as needed.

"Currently, the most popular BHSU academic programs among student veterans are the online Business Administration degrees and the highly-marketable accounting degree. Krajewski says the Master's program in Strategic Leadership and the Bachelor's in Applied Science in Leadership are just a few of the many programs at BHSU especially applicable to veterans.

"At BHSU and BHSU-Rapid City student veterans will find an affordable and supportive college experience with excellent academic quality," says Krajewski. "We are proud to serve our veterans by helping them achieve their goals in education."

Military Friendly is owned by VIQTORY, a service-disabled, veteran-owned small business that connects the military community to civilian employment, educational and entrepreneurial opportunities through its G.I. Jobs and Military Friendly brands.